DICKEY'S
INCUBATORS, INC
536 Ada Dr.
Millen, Georgia 30442
Our Phone/fax number is 478-982-5515
Or you can email Ernest Dickey by clicking my name.
NEW PRODUCT! We are now offering a 2 by 2 incubator/hatcher. Our 2 by 2 Incubator has 2 automatic turning trays and 2 hatching trays. See our Products Page for details.
Manufacturers of midsize Incubators and Hatchers at an affordable price. Quality and reliability, these are the two most important characteristics to look for when buying a new incubator. Nobody wants to lose a single egg, let alone an entire hatching. When you own a Dickey Incubator, if an egg doesn't hatch, it wasn't going to! Check our prices, specifications, and options.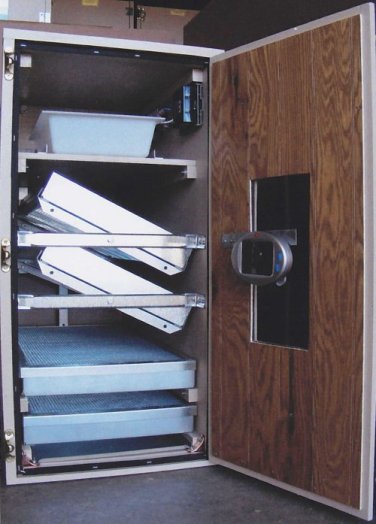 Click on either picture for product details
Our incubators have 3 turning trays and 1 hatching tray. The hatcher has 5 trays with covers. Each incubator tray holds 400 quail eggs, 125 Chuckar Pheasant eggs, or up to 96 chicken eggs. If you prefer, the tray can hold 47 goose, turkey, duck, or peafowl eggs. Remember, you have 3 trays, so we're talking about up to 1200 quail eggs, or three times any of the other types of eggs.
We now have Dividers for Hatching Trays!
Need Parts or Instructions